Your business has diverse product lines spread across multiple brands and websites. Therefore, it becomes challenging for them to manage each brand's support functions and ensure quality-oriented service to their customers.
Comm100 allows you to handle and execute customer service of various brands within a given business from a single system. Thus, keeping things neat and separate for multi-brand support.
This guide covers a few best practices that your agents can implement and configure in a multi-brand support scenario.
Campaigns
A campaign is a set of configurations that define the entire live chat experience, from how your chat button and chat window look to what kind of visitors should be invited to chat. Use Campaigns to create multiple chat experiences. Customize the appearance and functionality of each Campaign so that it matches your brand and satisfies your use case.
To learn more about the Campaign, see this article.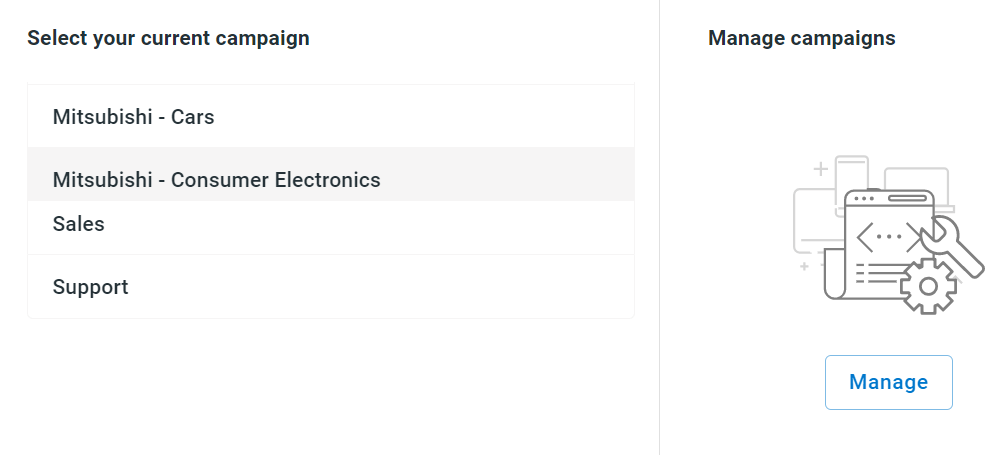 For example, you can adjust the following settings when designing a Campaign for each brand:
Chat Button: This includes deciding where the chat button appears on your web page, enabling a static or floating chat button, selecting your chat button image, and choosing to keep or hide the offline chat button.
Chat Window: You can customize this feature by selecting whether to use a banner image or an agent avatar and company logo, implementing the desired color, style, and images used on your live chat window, deciding whether to enable sound alerts, browser pop-up alerts, file sending, and more. To learn about customization of Chat Window, see this article.
Pre-chat: You can set Pre-chat to decide whether or not to enable or disable the pre-chat feature and choose field content and layout.
Post-chat: Like the pre-chat setting, the post-chat option allows you to enable or disable the post-chat feature and create field content and choose your layout.
Offline Message: Here, you can either use Comm100 Live Chat's offline message window or redirect visitors to a different page when there are no customer service agents to chat with. You can also set the field content for the offline message window and decide where offline messages get emailed. To learn more about Offline Message, see this article.
Invitation: This means that you get to decide whether or not to allow automatic proactive chat invitations to visitors and define the rules for said invitations.
Language: This allows you to change the language of your live chat window and button to whatever language is most appropriate for your website. You can choose from 13 built-in language packages for the visitor-side chat interface. If your preferred language is not one from the built-in language list, you can input any other language using the customization feature and tailor the texts to your preferences. To learn more about language, see this article.
Routing Rule: With this feature, you can route chats to a specific department or agent. You can also decide to employ rule-based chat routing, which automatically routes customers based on their location, pre-chat info, account information, behavior, and more. To learn more about routing rules, see this article
Chatbot: You can set a virtual assistant called Chatbot to communicate with your customers. It can help automate communication, streamline operations, collect customer feedback, and more. To learn more about creating a Chatbot, see this article.
KB Integration: You can set up your customer-facing Knowledge Base for access before chatting as a quick and effective problem-solving tool. Once a chat starts, your agent-facing Knowledge Base is accessible within the Comm100 agent console so your agents can find the information in quick time. To learn about Knowledge Base integration, see this article.
Canned Messages for Campaign: With this feature, you can set pre-defined canned responses for greetings, frequently asked questions, chat sign-offs, and so forth. This saves you the effort of repetitive typing and helps prevent typos and spelling errors during chat or responding to tickets, thus improving agent efficiency significantly and enhancing professionalism. You can quickly locate canned responses in your console and then answer visitors' questions with just a few clicks. To learn more about using Canned Messages, see this article.
When you create a Campaign for your website, you can set any or all of these elements to decide how your visitors view and interact with your live chat service.
Departments
A department represents a business unit in your organization with specific responsibilities. You can create departments for each brand with different agents assigned to them, and define whether a department can be used as an option for offline messages, chat transfers, routing rules, auto distribution, and so on.
Roles
Roles are used to grant permissions to agents based on their roles within your organization. This saves you from granting permissions to agents individually and allows the agent to efficiently manage customer service operations in the multi-brand scenario.
To learn more about the agent role, see this article. To learn about agent role permissions, see this article.

Canned Messages for Campaign
You can select canned message categories for specific Campaigns in a multi-brand scenario. This means that when an agent chats with a customer from a given Campaign, only canned message categories selected for that Campaign are available for agents to use. The content sources for Agent Assist are also be updated so that only canned messages from selected categories appear as suggestions when chats come in from selected campaigns.
To learn more about using Canned Messages, see this article.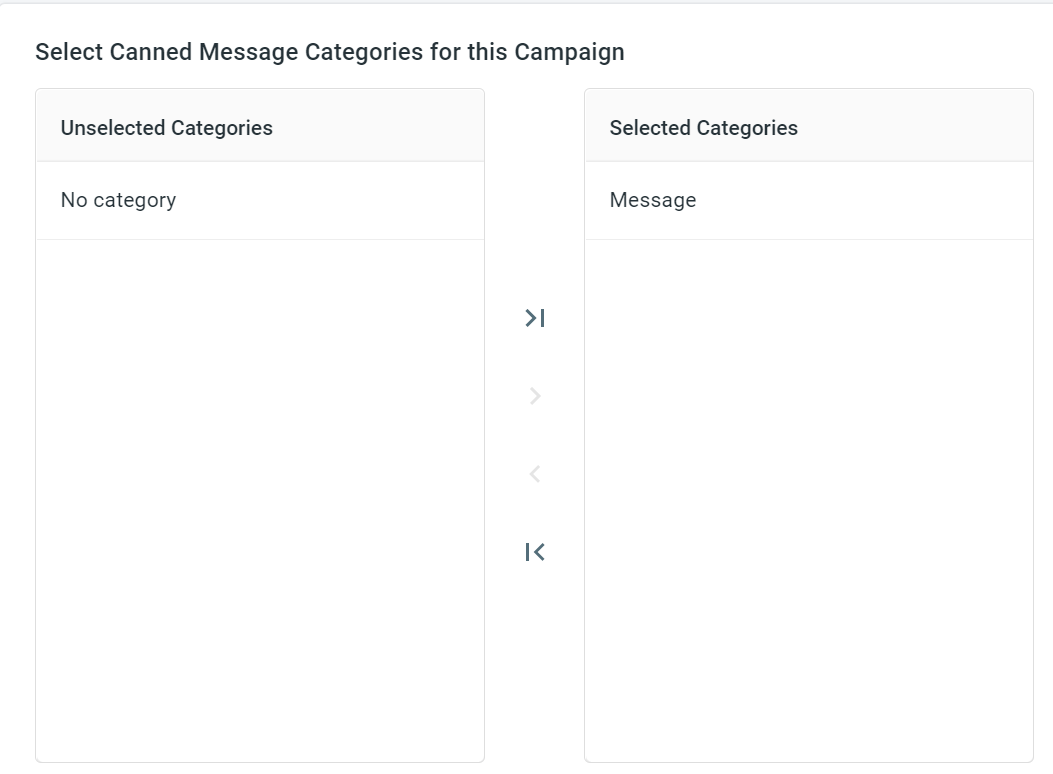 Shift
The Shift feature of Comm100 Live Chat makes it easy for you to stay online and on time for your customers in the multi-brand scenario.
You can quickly build and maintain live chat agent schedules, create multiple shifts per agent and department, and keep your team organized and clear when needed online to serve your customers.
To learn more about using Shifts, see this article.

Routing Rules
You can use the advanced chat routing features of Comm100 Live Chat to efficiently route customers to designated departments or agents based on customer location, source, navigation history, and other system fields in the multi-brand scenario.
To learn more about routing rules, see this article.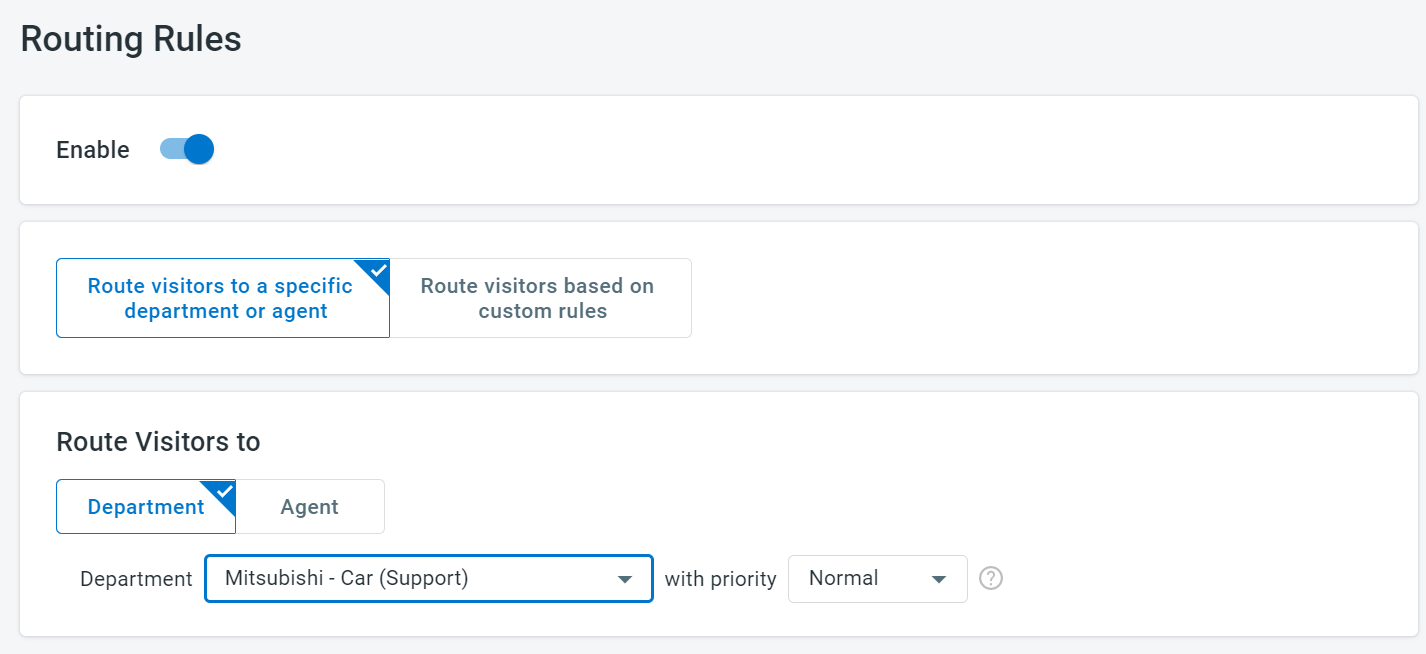 Measure the performance of Brand
Measuring your brand's performance can help identify the potency and limitations of your customer service. Comm100 provides robust reports which focus on the data and metrics that matter most to your chat quality, agent performance, visitor satisfaction, Chatbot performance, Ticketing & Messaging performance so that you can make informed decisions for improvement.
For example, you can check reports by campaign and see the number of visits, chats and chat acceptance rate, and so forth received by each campaign for a given period. This helps you better understand how your websites are performing.
To learn about Commm100 reports, see this article.